META Button
Note: There is a little piece on the META button in the documentation so you can always check Here first but here's a brief explanation of how to enter the information in the META section...
The META button is used to pass information and to inform the Search Engines to what your site is about - but choose your wording carefully and think like a user when inputting information into the META section.
Each page of your LEAP website has a META button in the top right corner so each page should contain it's own META information that's different for each page.



Check out an example of a META that's been filled out...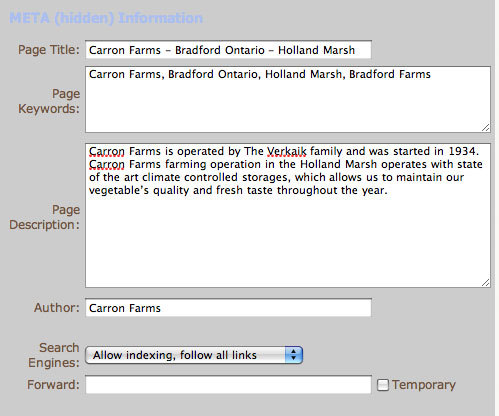 PAGE TITLE
is used for the title of your page/website, be sure to place important words regarding the page/website in this title, and be sure it's not too long.
PAGE KEYWORDS
is a comma separated list of the keywords associated with your website, think of what users should be searching for to find your site (also make sure this is not the ONLY place you're putting this information. If you put "carrots" in there and have it nowhere else on your site that doesn't make sense)
PAGE DESCRIPTION
This is a short description of your page/site. Just a sentence or two about that page and what it contains.
AUTHOR
Should be you!
SEARCH ENGINES
If you wish the Search Engines to find your site leave this drop down the way it is, you can restrict them putting your site into their indexes with this feature.
FORWARD
is used to direct one URL to another URL without having users sent to a page that "does not exist". Example! I created page - http://www.leapcms.com/testing But that information is out-of-date. So I created a new page called - http://www.leapcms.com/testing-new I don't necessarily want to delete my "testing" page because it may have traffic flowing it to from the Search Engines so on my "testing" page I put "testing-new" in the FORWARD section and then any user going to my "testing" page will be automatically forwarded to the "testing-new" page. (Eventually the search engines will update their links too automatically)
That's a short explanation of the META Button and one small piece of Search Engine Optimization as a whole. No one can guarantee a certain spot on a Search Engine - but if you fill out this information on all of the pages within your LEAP site it's a great step in the right direction.
Treefrog also offers optimization packages beyond this META Button as this is only one piece of Search Engine Optimization, there's a whole other world out there for SEO - a lot of our clients have monthly contracts for SEO, should you?
If this makes no sense to you we are also available to assist you with keyword ideas, or perform these for you! Contact Us for more information!